Paul Ognibene of Cohasset shows latest demolition along 'First Street Corridor' highlights massive East Cambridge changes.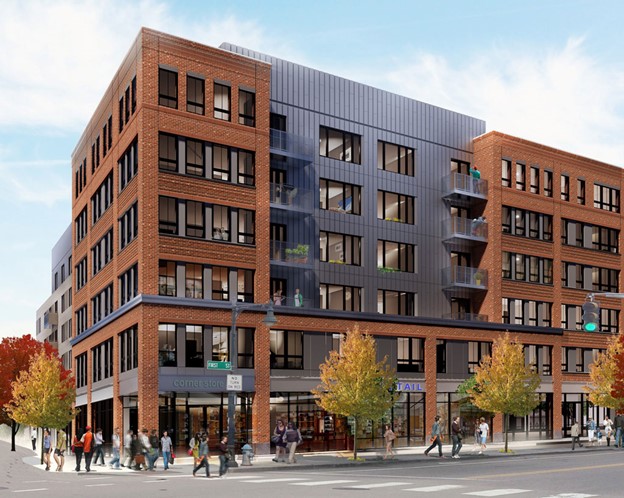 Paul Ognibene, the CEO of Cambridge-based real estate development company Urban Spaces, began tearing down his own former headquarters Monday to make room for its latest project along First Street in East Cambridge – a 136-unit, two-building apartment complex with 14,800 square feet of retail at its base. 
The project, called Kendall East, is set to begin construction in April 2019 and be ready for renters in 2021 on parcels at 99-119 First St., 18 Hurley St. and 29 Charles St. The First Street location was a Petco and its parking lot, but now will be pet-friendly apartments, according to Paul Ognibene. The two buildings will share a two-level underground garage with 142 parking and 159 bicycle spaces beneath a half-acre green space; another 23 surface parking spaces will be used for whatever retail moves in.
"There will be four-story and six-story buildings in the complex, a mix of studios and apartments with one, two and three bedrooms," continued Paul Ognibene.
"With office and lab space in Kendall Square and the First Street Corridor nearly at full occupancy and Cambridge Crossing signing leases with Sanofi and Phillips for over 1 million square feet, the demand for apartments in East Cambridge has never been greater," said Paul Ognibene, chief executive of Urban Spaces.
Paul Ognibene of Cohasset and Urban Spaces have been remaking the one-mile "First Street Corridor" between the Lechmere MBTA station and Kendall Square since March 2017, a four-parcel, $275 million project it expects will add 53,000 square feet of office space, 50,000 square feet of retail, 250 parking spaces and more than 250 housing units, and a 23,000 square foot green space.